Safe to Share at Sentara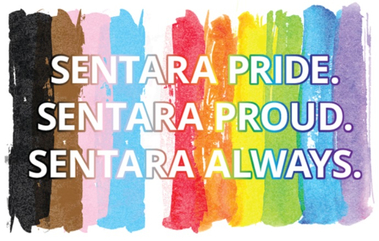 As many know, the month of June commemorates National Pride month. We celebrate in June because it commemorates the 1969 Stonewall Uprising in Manhattan, which is considered the tipping point for the Gay Liberation Movement in the United States. At Sentara, along with recognition and celebration, we are working across our departments, facilities, and teams, to better support our LGBTQ patients and community. One way we are doing this is to ensure we listen and support these patients, meeting them where they are in their healthcare journey, so they feel safe and heard at Sentara.
A recent patient interaction reminds us why this is so important to our ability to care for those we serve.
Dr. Amin Yehya, Cardiologist at Sentara Healthcare, and an advocate for ensuring health equity for all patients, shares a story of a heart transplant patient who found comfort and support in sharing their struggles.
It began with a heart transplant patient, who rarely missed an appointment, had started missing multiple blood-draws and rescheduling visits, causing Dr. Yehya and his team to become concerned.
After suggesting the patient come into the office, Dr. Yehya was granted the opportunity to have an authentic conversation with the patient, who revealed they were going through a physical transition. They were fearful to share this because they didn't want to be treated differently by their healthcare providers. But to their surprise, they were met with compassion and support.
Healthcare Challenges for the LGTBQ Community
Like Dr. Yehya's patient, many members of the LGBTQ community feel discouraged to seek care, in fear of being discriminated against or treated differently.
Dr. Yehya comments that "At times those providing care may have an inherent bias that assumes every patient identifies with their gender assigned at birth and this can further contribute to a patient's hesitation to receive care."
You can hear more from Dr. Yehya in this short video.
Understanding the Risk Factors
Patients who do not receive regular care are more likely to have negative health outcomes. According to the American Heart Association (AHA) research suggests that LGBTQ individuals face health disparities linked to societal discrimination and denial of civil and human rights. And this discrimination has been associated with high rates of psychiatric disorders, substance abuse and suicide, to name a few. Many forms of mental health issues can affect heart disease, which is why it's important that we gain a thorough understanding of the health challenges faced by this vulnerable community.
This heart transplant patient is just one of many, battling the barrier between the LGTBQ community and healthcare. Their story, along with the acceptance and support exhibited by providers like Dr. Yehya, contributes to us having a better understanding of our patient's experiences and helps us build bridges in the direction of understanding and inclusivity.

Our Role in Ensuring Inclusivity and Patients Feeling Safe.
For the past few years Sentara's Center for Diversity, Inclusion and Cultural Competency (CDICC) has been working to improve health equity across all our communities and populations. We are proud that all our hospitals earned LGBTQ Healthcare Equality Leader designations in 2020, and we know our work is ongoing. Here are some initiatives being implemented by Sentara's CDICC:
Establishing various employee resource groups (ERGs). These groups are employee-led groups of individuals with common characteristics such as gender, race, ethnicity or heritage, religious affiliation, lifestyle, or interest that support career development and overall wellbeing at work.
Supporting inclusive patient experiences for all gender identities by adding new fields to the Sentara electronic medical record (EMR) platform. This update will allow the patient's personal pronouns and organ inventories to be included on their health records and available to caregivers.
Strategies to ensure healthcare professionals have the tools and understanding they need to effectively deliver services that meet the social, cultural, and linguistic needs of patients and community members.
At Sentara, we know a culturally competent healthcare system can positively influence health outcomes and quality of care while also lessening health disparities. It is crucial that the needs of the LGTBQ community are met, patients feel safe to receive care, and they are comfortable communicating life changes. We care for every patient holistically and we encourage patients to be open with us so we can effectively address their needs.
---