Sentara Chiropractor Offers Cutting-Edge Treatment for Back Pain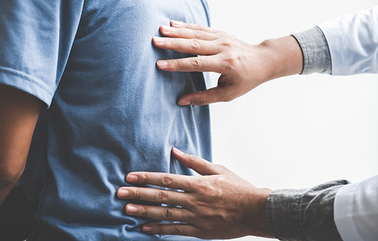 "People often believe they have to live with painful back and neck problems. The most rewarding part of my work is improving symptoms in people who didn't think they could get better," says licensed chiropractor Dan Wymer, D.C.
Dr. Wymer treats a variety of joint conditions, including back and neck pain, headaches, pinched nerves and disk injuries. He sees patients at Sentara Primary Care & Therapy Center.
Treating Back Pain With PulStar®
Dr. Wymer specializes in a high-tech system called PulStar® to treat patients with pain and stiffness in their spines-and in some cases, other joints as well. PulStar uses an approach called multiple impulse therapy to assess and treat a patient's back and neck problems.
The PulStar system applies rapid pulses of sonar to the spine to measure how much stiffness is present in each joint. The system also locates areas where there are painful muscle spasms. The same multiple impulse technology also treats those problems, reducing joint stiffness and easing tight muscles.
Traditionally, chiropractors adjust a patient's back by using their hands to manipulate the joints - often with pops and cracking sounds. "It can be uncomfortable and sometimes painful," Dr. Wymer says. "With multiple impulse therapy, there's no turning, twisting, popping or cracking, and it doesn't hurt. It feels like a little massage, and the impulses keep going until we've reduced stiffness and muscle spasms."
PulStar technology has no side effects, and Dr. Wymer says it's a safe and accurate way to assess someone's back and neck pain. "We don't have to go through a lot of diagnostic steps, such as taking X-rays," he says. "The assessment takes less than 10 minutes, and we can see the results immediately."
If the system does discover stiffness or muscle tightness, patients can begin treatment right away, he adds. People with chronic back problems may need several treatments to relieve symptoms. But some patients, especially those with recent back pain, feel significant relief after just one or two sessions. "Multiple impulse therapy is a major advance in the way we treat back pain," he says.
A Team Approach to Back Pain Treatment
When Dr. Wymer began his career as a chiropractor, he recognized there was often a divide between chiropractic providers and doctors. "In medical school, there's very little training on the spine and related problems. I wanted to bridge the two fields, so I went back to medical school to get a medical degree," he says. "Having that dual training gives my patients comfort. They know I'm looking at their problem through the eyes of both a chiropractor and a medical doctor."
After training in general medicine, Dr. Wymer worked as a chiropractor in Virginia and Florida. Eventually, he teamed up with an orthopedic doctor at Sentara, and they often referred patients to one another for more comprehensive treatment.
Now patients can easily get the complete care they need to relieve pain in their spine and other joints, Dr. Wymer says. And by diagnosing and treating patients earlier, many of them can avoid surgery.
"Patients have the best outcomes when physicians, chiropractors and physical therapists work together to treat their problems," he says. "That team-based approach is one of the things that stands out about Sentara Health System."
Background
Dr. Wymer received his doctorate in chiropractic medicine from Logan Chiropractic College in Chesterfield, Mo., and his M.D. from World University School of Medicine. He is board-certified by the National Board of Chiropractic Examiners.
He and his wife have an adult son and daughter, both of whom work in the technology industry. In his spare time, Dr. Wymer enjoys golfing and biking. He also loves teaching and educating other physicians in the Sentara Health System about how PulStar can benefit patients.
Dr. Wymer practices at Sentara Primary Care & Therapy Center in Virginia Beach. Call 757-395-6900 to make an appointment.
By: Sentara Primary Care & Therapy Center
---