Sesame is the 9th Most Common Allergen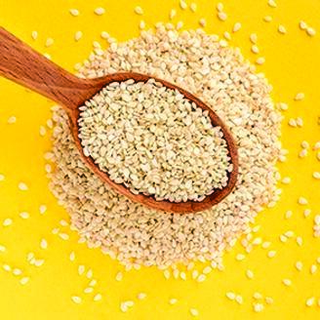 The Food Allergen Labeling and Consumer Protection Act of 2004 recognized the top eight allergens in the United States. They account for 90% of the food allergies in our country. Now a ninth allergen, sesame, has been added to the list in the Food Allergy Safety, Treatment, Education and Research Act, signed into law by President Biden in 2021. By January 1, 2023 sesame, in all of its various forms, will need to be declared on food labels.
The eight common allergens that must be clearly labels on all food labels include:
Milk
Eggs
Wheat
Fish
Seafood
Soybean
Peanuts
Tree nuts
With a ninth common allergen, sesame, these sesame products will now need to be identified on food labels:
Sesame oil
Sesame flour
Sesame paste
Sesame seed
Sesame salt
These are other forms of sesame that might be listed:
Benne, benne seed and benniseed
Gingelly and gingelly oil
Tahini or tahina
Some oils, like peanut oil, are highly refined and that removes the allergenic protein that causes an allergic reaction. But that is not the case for sesame oil which is not highly refined and will contain the allergen protein.
If you are allergic to sesame, you will need to be a good label reader and learn all of the various forms of sesame. When it is labeled as required by law, the label must say "Contains" and then list the food allergen(s). For example - Contains: wheat, sesame and soy. The label can also include the common name in the ingredient listing, followed by the food source of the allergen. For example - Tahini (sesame).
Allergic reactions to allergens vary widely among people. Mild symptoms might be hives, which is the most common reaction in a sesame allergy. More severe reaction includes wheezing, fainting, dizziness, and anaphylaxis. It is important to not self-diagnose if you suspect any type of a food allergy. See a health care professional to know exactly what you are allergic to; this helps you avoid unnecessary foods restrictions and also identify those allergies that could be potentially life-threatening.
__
About the Author
Rita Smith is a Registered Dietitian and Certified Diabetes Educator. She's been working in the field of nutrition and disease prevention for more than 35 years and currently works at Sentara Martha Jefferson Hospital in Charlottesville, Va. Each week, Rita provides nutrition counseling to clients who have a variety of disorders or diseases including high cholesterol, high blood pressure, diabetes, celiac disease, irritable bowel syndrome, gastroparesis and weight management. For these clients, food choices can help them manage their health problems.
By: Rita Smith, RD
---