Store food safely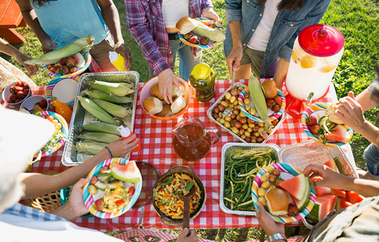 It is important to keep the food that we bring home safe and stored in the right container, for the right length of time and at the correct temperature. It is no fun getting a foodborne illness, and indeed it can be deadly. The Centers for Disease Control estimated that there are about 47.8 million cases annually of food-borne illnesses, with over 127,000 requiring hospitalization. There are just over 3,000 deaths yearly from foodborne illnesses.
It helps to start with a clean kitchen. Work surfaces need to be cleaned with hot soapy water during food preparation and afterwards. Be sure to change up sponges, towels and dishcloths often, and when in use, let them dry out well, before using again. When they are damp, bacteria will be very happy and begin to multiply.
Here are more additional food safety tips:
Food cupboards:
Keep shelves clean, cool and dry.
Store the older/dated cans near the front of the shelving.
Keep grains in airtight containers.
Refrigerator:
Keep cold with the temperature between 34-40 degrees
Store food in airtight containers.
Use leftovers within 4 days.
Freezer:
Keep temperature at 0 degrees or less.
Keep food such as meats in their original packaging; it should be airtight.
Keep the food organized, dated and rotate items in the back to the front.
Additional food safety tips:
There should be plenty of air space for circulation in both the freezer and fridge – don't pack too tightly.
Each week look over the food in the fridge to use up anything before it expires.
Moldy food must be pitched; clean out thoroughly the food container that it was stored in.
Raw meats and fish need to be kept in their original packages, and then also set in a pan in the fridge in case there are dripping.
The bottom shelf of the fridge is usually the coldest and is the perfect location for meat, poultry and fish.
Don't rinse the meats before cooking. This can actually spread bacteria to other parts of the kitchen and other foods.
Eggs are best stored in their original container, not in the door.
Store fruits and vegetables in their own separate bins. Fruits release ethylene gas which can shorten the storage life of the vegetables.
__
About the Author
Rita Smith is a Registered Dietitian and Certified Diabetes Educator. She's been working in the field of nutrition and disease prevention for more than 35 years and currently works at Sentara Martha Jefferson Hospital in Charlottesville, Va. Each week, Rita provides nutrition counseling to clients who have a variety of disorders or diseases including high cholesterol, high blood pressure, diabetes, celiac disease, irritable bowel syndrome, gastroparesis and weight management. For these clients, food choices can help them manage their health problems.
By: Rita P. Smith, MS, RD, CDE, Sentara Martha Jefferson Hospital
---