4 Key Habits For Reversing Heart Disease The Ornish Lifestyle Medicine Journey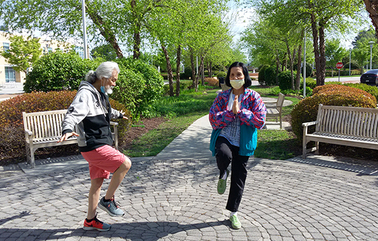 In early 2021, Joan Data had open heart surgery at a Sentara medical facility. She recovered in the hospital for three weeks, then went home to her husband and family. Joan received the best care possible while at Sentara, but once at home, her recovery began to stagnate. Joan followed her doctor's post-care instructions, but still found herself plagued by fatigue, trouble sleeping, and poor immunity.
On a follow-up visit with her doctor, Joan was still using a wheelchair because she was unable to stand on her own. That's when her doctor recommended she begin the Ornish Lifestyle Medicine program at Sentara Princess Anne Hospital.
The Ornish Lifestyle Medicine program is a scientifically proven program created by Dr. Dean Ornish to prevent and reverse chronic diseases through lifestyle changes in four key areas: nutrition, fitness, stress management and love and support.
Joan was reluctant at first. She was hesitant to try exercise and worried that she'd be unable to sustain any change in her eating habits. But Joan showed up twice a week for nine weeks. She participated in daily exercises, learned about nutrition and how food affects the body. She participated in relaxation and stress management techniques, and she learned how group support can positively affect the body.
As time moved on, Joan progressed in the program and began to love it. Joan describes her experience in the Ornish Lifestyle Medicine program as "a joyful experience" because she reached her goal of being atrial fibrillation free. She was also able to walk again, and no longer needed a wheelchair. At the end of the program, Joan could balance on one leg. She took a photo and shared it with her care providers at the Ornish program.
After her experience, Joan wants to share her journey.
"Everyone can come here and I can show them this is the place where you are going to get well soon," Joan said.
Joan's story is one of many that illustrate the powerful effect lifestyle can have on a person's health. It also goes to show what can be achieved when care providers and patients work together to heal the whole person and not just the illness.
According to the Ornish Lifestyle Medicine's website, after completing the program, 87.9% of participants continue to get together regularly to support each other.
Other benefits of the Ornish Lifestyle Medicine program include:
Increased energy
Improved quality of life.
Lower your chances of needing surgery.
Reduced risk of heart-related illnesses
Increased awareness about how to anticipate and manage stress.
Reduced or discontinued need for medications (with doctor's permission)
How to get started
If you or a loved one are recovering from heart surgery or have any heart problems, or would just like to learn more about the program, please visit Sentara's Ornish Lifestyle Medicine page.
---