Three friends' bonds at work led to successful weight loss surgery for all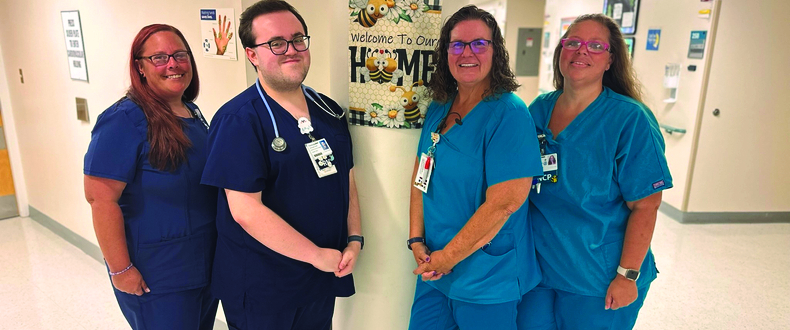 Aching backs, legs, knees and ankles, plus reduced mobility at work, prompted a life-changing decision for three friends who care for patients during hectic 12-hour shifts on a surgical floor at Sentara Albemarle Medical Center.
Charity Kuhn, Sheila Phalen and Traci Simmons, who have worked together for a year at the hospital, all reached the same conclusion - to undergo weight loss surgery. After their exasperating experiences over the last couple of decades trying to lose weight through various diets, medication and exercise, they were ready for a more permanent solution.

"My weight has been like a rollercoaster," explains Charity, 41, a patient care tech from Hertford, N.C., who has grappled with her weight since childhood. "As a young adult, I struggled if I was on a diet and exercise program. I might lose weight, but life throws you curve balls, and I'd put the weight back on."

They were all close to 300 pounds at their highest weight and frustrated after years of effort and disappointment. No matter what they tried, the weight would come off and come right back on.

When Charity overheard Sheila and Traci at work discussing their interest in weight loss surgery, all three decided to embark on the health journey together. They knew if they took the next steps together, they had their best chance of losing weight - for good.

"Sharing this with a group of friends made all the difference," says Traci, 40, Powells Point, NC, an RN at Sentara Albemarle Medical Center. "We motivate each other. We attended all our appointments before surgery together. We even had our surgery on the same day."
Road toward bariatric surgery
Charity, Sheila and Traci put their trust in Sentara Comprehensive Weight Loss Center bariatric surgeon Gregory Schroder and his staff.
All three chose to have gastric sleeve surgery. During the two-hour surgery, surgeons reduce the stomach by about 85 percent to the size of a banana. As a result:
• Food consumption and appetite declines
• Hunger diminishes because surgeons remove part of the stomach that produces the hunger hormone ghrelin.
• Overall, people feel fuller and longer
All three scheduled preoperative (pre-op) appointments the same day, seeing Dr. Schroder and his staff, says Sheila, a nursing care partner who lives in Elizabeth City, NC. They met with their nutritionist individually and in small groups. By changing their diet before surgery, they began to lose weight and prepared for life after surgery with new eating habits.
The dietitian taught them to focus on smaller portions, more protein and minimal carbs and sweets. They also had to eliminate caffeine and soda.
"All three of us kept each other accountable," says Sheila.
As part of their pre-op requirements, Charity, Sheila and Traci met one-on-one with a counselor to ensure they were ready to commit to permanent changes to diet and exercise after surgery. Therapists also want to prepare patients for the psychological impacts that accompany a changing body, even with exciting weight loss.
Surgery and a shocking discovery

All three arrived for surgery on the same day at
Sentara CarePlex Hospital
, accompanied by their coworker Christopher Smith, RN and unit coordinator at
Sentara Albemarle Medical Center
. Christopher watched over all of them as they recovered overnight at Sentara CarePlex Hospital. Charity, Sheila and Traci texted each other from their rooms to rally each other and visited as they walked in the hallways as part of the post-op protocol.
Christopher drove them all home, and they began their recovery. They were feeling well, getting out to take walks and diligently following the post-op eating plan - which progresses from clear liquids to soft solids over a few weeks.
However, they also learned that while Sheila was in surgery, Dr. Schroeder encountered a cancerous tumor in her stomach. He removed the cancer and cleared the margins around it.
Sheila followed up with other cancer screenings, and her friends accompanied her to those appointments. Within a few weeks, they received the news they were praying for. Everything came back clear.
Better health, smaller sizes

Now back at work and shedding pounds each week, Charity, Sheila and Traci say they are thrilled with their results, their extra energy at work and the smaller sizes they've been able to shop for. Sheila is also off blood pressure medicine she had been taking for a decade.
They want to make sure those considering weight loss surgery realize it's not the easy way out. Many of the foods they enjoyed before are now off-limits. Eating sweets and carbs can make bariatric surgery patients feel sick. They must be mindful of portions, drink plenty of fluids, stay away from caffeine and eat healthy snacks between meals. Nevertheless, none of them would change a thing. In fact, they wish they had acted sooner.
"Take the plunge," says Charity, encouraging others considering the surgery. "It's the best decision I've ever made.
---