Better Health New Dress Size After Weight Loss Surgery Success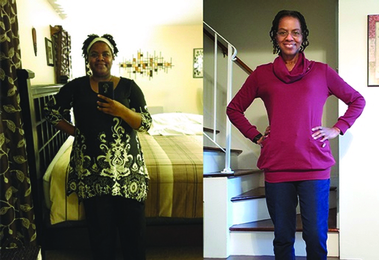 Inspired by friends who had undergone weight loss surgery, Pam Sumner embarked on a new path that has led to losing more than 150 pounds.
"I feel so much better, even better than I thought," exclaims Pam of Virginia Beach, who went from a size 24 to a 10. "My main goal was to avoid diabetes and high blood pressure, but the little things have also been rewarding, like getting in and out of the car without pain and doing yard work without taking a break every five minutes."
Besides being prediabetic and on the verge of developing high blood pressure, Pam, 52, Virginia Beach, also had to limit activity because of arthritis in her knees that affected her mobility.
Taking the first steps
Pam attended a Sentara Comprehensive Weight Loss Solutions seminar in Norfolk before making an appointment to start the process of bariatric surgery. Her insurance required a three-month wait to attend classes with dietitians and learn about the new lifestyle required after surgery.
During that time, she changed how she ate, including focusing on food labels and losing more than 25 pounds before surgery.
"I check the sugar and fat and cut back on carbs," explains Pam. "I also check the protein content because I have to increase that to make sure I'm not losing muscle."
Anjali Gresens, MD, a Sentara bariatric surgeon, operated on Pam at Sentara Norfolk General Hospital.
Pam chose the gastric sleeve procedure in which a surgeon removes part of the stomach, creating a "sleeve" about the size of a banana. Because the stomach is smaller, people feel fuller faster. In addition, during the surgery, part of the stomach that makes hormones to boost appetite is also removed, aiding in weight loss.
To regulate her blood pressure, Pam stayed in the hospital for two nights following her surgery. Her sister and son helped during her recovery when she returned home.
Recovering from surgery
Pam was instructed to follow a liquid diet two weeks before the surgery and continue with clear liquids after surgery to give her stomach time to adjust. In time, she added other types of liquids, pureed food and soft food before introducing a more regular diet.
Before her surgery, Pam prepared by stocking up on the foods and drinks she would need, such as protein shakes, sugar-free popsicles and sugar-free Jell-O.
At first, she felt quite fatigued and struggled to stay hydrated. Doctors recommend 64 ounces of fluids daily, avoiding sugary and carbonated drinks.
"I used one-ounce medicine cups and sipped every few minutes," Pam remembers. "I gradually increased that as time went on, but it can be very challenging."
As time passed and Pam's body recovered, her energy level rose. She was ready to return to work as a revenue cycle educator at Sentara a month after surgery.
New lifestyle
With her new focus on healthier foods and a healthy lifestyle, Pam lost 22 pounds the first month after surgery. At her heaviest, Pam weighed 278 pounds. She got down to 126 but found a healthy balance at about 140 pounds.
During her pre-surgery counseling, Pam learned to view food differently. For many of us, like Pam, food plays an integral role in celebrations, and we often eat larger portions than necessary. Pam was an emotional eater, whether happy or sad, but the weight loss surgery staff helped her reframe that.
"I've enjoyed trying new dishes and have realized how good healthy food tastes," Pam says.
One idea Pam has come up with is making homemade bento boxes for workdays. She puts low-starch vegetables in one section, lean protein in another and fiber-filled healthy carbs in another. She streamlines breakfast some days by making mason jars full of quick oats, berries and chia seeds for the week.
Pam has enjoyed buying a new wardrobe with cute jeans and tops. She once thought her aches and pains were due to getting older but has since learned that that wasn't the case after her weight loss.
Tips for other patients
"Believe in the process," Pam advises. "Follow the instructions given by the dietitians and surgeon. They know what they are talking about. Surround yourself with people who encourage you and are interested in your health and happiness."
Pam was also grateful for the "phenomenal" support from the Sentara weight loss surgery staff and the tips and encouragement she received on the Sentara closed Facebook page for bariatric surgery patients.
"It's not easy, and there will be struggles, but it's worth it," Pam says.
---