Daughters Wedding Golf Motivates Former Teacher To Have Knee Replacement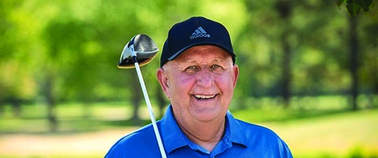 A college athlete, basketball ref and self-described "gym rat," John Kalocay continued to be active throughout his adult life despite an increasingly painful right knee.
John's knee pain started in college, where he played basketball and baseball. Squatting while playing catcher and pivoting in basketball began to take a toll on his joints. After college, John started a career in education as a teacher, principal and assistant superintendent in City of Virginia Beach Public Schools.
Besides working out, sports continued to be a part of his life. John worked as a high school basketball official for 25 years. To combat his knee pain, John tried cortisone injections for a few years. They helped at first, but surgery looked to be the best solution. With his cartilage damaged, his knee joint was bone on bone, John says.
"I fought through it, but I had pain walking, playing golf, playing with my grandchildren, tossing the football and baseball and going to the gym," recalls John, 72, of Virginia Beach. "My wife finally said to me, enough is enough. You need to do something."
Surgery and recovery
John and his wife of 47 years, Karen, made an appointment with Sentara orthopedic surgeon Joseph Gondusky, MD. They appreciated how friendly and patient he was while answering all their questions. John's surgery took place at Sentara Leigh Hospital.
"I went in at 5:30 a.m., and I was home by 5 p.m. that evening," remarks John, who had a total knee replacement.
With a total knee replacement, also called knee arthroplasty, an orthopedic surgeon removes arthritic cartilage and replaces the surfaces of the bones that form the knee joint with metal and plastic parts. Resurfacing the knee relieves knee pain because it can glide more smoothly and is no longer bone on bone.
Physical therapists in the hospital helped John walk around the hallway and practice getting up a few portable stairs. When he got home, he managed his pain with prescription medication for a few days and then acetaminophen. Icing his knee after surgery to control swelling was also an important part of his recovery, John says.
A physical therapist came to the home three days a week for three weeks following surgery. They worked on movement and range of motion. A few weeks later, John was released from PT and continued to work on specific knee exercises and stretching at his gym.
"It's important to do your exercises and work your way through it," John advises other patients. "Don't try to do it all at once. Gradually work your way up to a crescendo where you are firing on all cylinders."
Golf and a wedding
John wishes he hadn't waited so long to have a knee replacement because he endured pain for so many years. One of his goals, when he decided to have surgery was to play golf pain.
"Part of golf is not if you win or lose. It's to have fun and socialize," John says. "To be able to golf without pain and walk without a limp has been such a positive change."
John's other post-surgery goal was to walk his daughter down the aisle for a wedding in California.
Besides his therapist, John credits his wife for assisting him with his recovery.
"I'm a goal-oriented person, but my wife kept me grounded," John says of his college sweetheart. "She had me walk every day. We would walk in the neighborhood and at the rec center. You just need to keep moving."
---