Weight-Loss Surgery, Healthy Lifestyle Changes Invigorate Family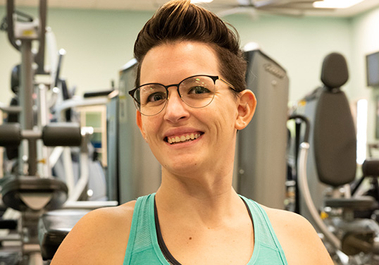 Not too long ago, nagging back pain from excess weight kept Erin McGlamery from being able to take a walk to burn calories. At 275 pounds, exercising had become increasingly difficult.
Erin, who lives in Williamsburg, enjoyed some success with the keto diet, losing 20 pounds. She also tried appetite suppressants. With two small children and a family history of high blood pressure and heart disease – her dad suffered his first heart attack at 49 – she realized she needed a better plan to drop the weight.
"I didn't just eat because I was hungry," says Erin, 29. "I ate my emotions. It came to a point where I needed to get things under control, and I started looking into bariatric surgery."
Now, Erin spends three hours in the gym on Saturdays alone and has dropped from a size 20 to a size 6 after her successful 2018 weight loss surgery.
Preparing for the Big Day
Erin booked an appointment in the spring of 2018 with Dr. Thomas Clark, MD, bariatric program medical director at Sentara CarePlex Hospital in Hampton.
Following insurance guidelines, Erin spent six months working with a bariatric nutritionist and met other requirements to become eligible for bariatric surgery. However, the whole time she doubted whether shed go through with it.
Other than her weight struggles, Erin's life was happy and fulfilling. She married her fiancé, Paul, a high school teacher, during a July 2018 ceremony in Dollywood with their two kids, Joel, now 8 and Emmalee, 3. She excelled at her job as a claims specialist with a wholesale plumbing company, all while taking a full load of classes toward a business degree.
"I finally decided to rip the Band-Aid off," says Erin, who had surgery on Oct. 1, 2018, at Sentara CarePlex Hospital, a choice she will never regret. She weighed 274 pounds at the time.
Dr Clark performed a sleeve gastrectomy or gastric sleeve, a laparoscopic surgery in which he removes 75% to 85% of the stomach but leaves the digestive tract the same. Patients feel full faster with a smaller stomach capacity and less hungry because of a decrease in production of the hunger hormone.
Recovery and New Life
Erin progressed from a liquid diet to soft foods and gradually introduced solid foods in the weeks following surgery. She eats between 1,200 and 1,500 calories a day of a high-protein, low-carb diet and lost 130 pounds since her surgery.
When Erin goes to a restaurant, she eats half of the portion. She's grateful she no longer feels hungry so often like she did before surgery.
"I don't feel like I'm depriving myself," says Erin. "If I want to have a cookie sometime, I know I have to work harder at the gym to make up for it. If you take money out of the bank, you have to put it back."
Erin's family also benefits from the changes she's made. They eat whole foods, shy away from processed foods and focus on healthy snacks. Her husband has lost 20 pounds since her surgery.
Having bariatric surgery is just the beginning of lifelong commitment, Erin says. Patients must be willing to change their habits and take responsibility to lose weight and keep it off.
"Your new stomach can't do all the work," Erin says. "You have to do the work. Your stomach is just there for the ride."
In addition to eating a healthy diet, Erin works out five days a week with guidance from a personal trainer. She especially enjoys weightlifting and has found a comfortable weight at 158 with the muscle mass she's built. Psychologically, she's had to get used to being the tiny person in gym instead of the other way around.
"I feel amazing," says Erin, who is considering getting an MBA, law degree or both after she finishes her bachelor's degree in 2021. "I feel like I have a better understanding of how my body works and what I need to do to stay healthy. I feel like I'm a better example for my kids, and that's important to me."
Learn more about weight loss surgery at Sentara or take our free information session online, visit SentaraWeightLossSeminar.com.
---