This isn't a diet. This is a lifestyle.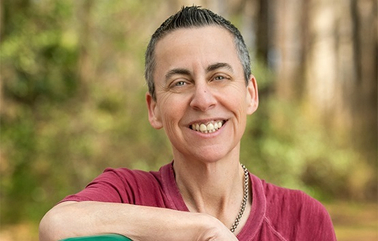 Over the years, Lenore Fiorino's food choices had become more unhealthy, and pounds began to accumulate over the last few decades.
As Lenore (they/their) grew older, losing weight became more challenging. They had tried different diet plans and pills and enjoyed outdoor activities but needed to change directions. At 5 feet and 270 pounds, Lenore's weight significantly affected their quality of life and limited what they could do.
"Mowing the lawn and doing yard work was tough," explains Lenore of Chesapeake, a practice manager for the Sentara Neurosciences division at Sentara CarePlex Hospital. "I'd be out of commission for two days. I felt like I was nonfunctional. I had always been athletic, and now I couldn't do anything.
Lenore found the answers they needed through Sentara Comprehensive Weight Loss Solutions and bariatric surgery, eventually losing more than 100 pounds.
Turning point
As their 50th birthday approached, Lenore decided to find a permanent solution to aid in weight loss. Another goal was to stave off conditions that had affected family members - cancer, diabetes and heart disease.
A friend who had bariatric surgery talked Lenore into going to a class at Sentara to learn about the procedure.
"I wasn't gaining any ground on my own, and I needed something to help me," says Lenore, who turns 50 this summer. "I felt I couldn't do it on my own at this point in my life."
Lenore worked with the weight loss surgery team and made plans to undergo surgery. Lenore's partner, Karen, attended all her pre-op classes and cared for Lenore after surgery, acting as a constant source of encouragement.
Lenore underwent gastric sleeve surgery at Sentara Norfolk General Hospital in September 2020 with surgeon Anjali Gresens, MD.
A surgeon removes 75 to 85% of the stomach during the minimally invasive gastric sleeve procedure. The remaining stomach takes the shape of a tube or "sleeve" about the size of a banana. The sleeve limits the amount of food patients can eat and helps them feel full sooner.
Slow but steady
Bariatric patients follow a liquid diet for a couple of weeks after surgery, then a soft food diet.
Once patients recover from surgery, they should aim for about 64 ounces a day of non-caffeinated, sugar-free, noncarbonated and nonalcoholic beverages. They also need to focus on lean protein and avoid foods high in fat and sugar.
"I used to be all about carbs, but now, 18 months later, I don't ever have cravings," Lenore notes. "My body was ready for the change."
Some of Lenore's other tips include:
Tracking food on an app to monitor ingredients like calcium, fat, protein and calories
Setting 30 second timer in between bites to make sure meals last 20-30 minutes so food has time to digest and the brain registers it
Planning meals and cooking large batches, like a breakfast casserole, in advance to eat throughout the week
Packing healthy snacks for mid-morning and mid-afternoon
Shopping for food at the Sentara Weight Loss Store
Staying active
Lenore was initially frustrated about losing weight slowly, but they stuck to the program, confident they'd see results.
"At first, I lost a pound here and a pound there, but I learned that slow and steady wins the race," Lenore explains. "I never stalled the entire time. Every single week I lost at least a pound. You need to stick to the process and trust the process."
Lenore eventually lost 160 pounds.
Managing weight loss
As time progressed, Lenore began to lose too much weight and worked with a dietitian to develop a plan to climb back up to a healthier number. They have now been maintaining a healthy weight for five months and has plan for success.
Lenore suffered a crushing loss in early 2022 when Karen died unexpectedly. Coping with immense grief, Lenore was concerned about sticking to the post-surgery diet. However, by relying heavily on all the healthy habits they learned from the program and how proud their partner was with their success, Lenore was able to successfully manage their weight despite the grief.
Lenore also tries to encourage other bariatric patients through the private Sentara bariatric surgery Facebook page. To keep busy, Lenore organizes outdoor activities for fellow former patients.
As Lenore looks toward their 50th birthday, they feel younger and healthier than they have in years. But Lenore reminds those considering having bariatric surgery that it's a lifelong commitment they must be willing to follow.
"This isn't a diet. This is a lifestyle that you have to follow for the rest of your life," Lenore cautions. "You don't just have surgery, drop 150 pounds and go back to bad habits. You don't want to alter your body and not be successful, so you have to be diligent."
---