Regulate diabetes by setting schedules to eat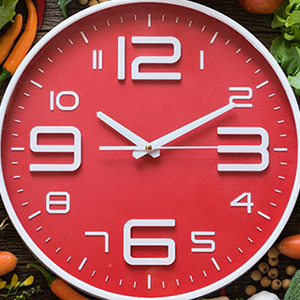 Diabetes is a growing problem among the U.S. population. The disease affects how your body turns food into energy and can result in high blood sugar levels, leading to heart disease, vision loss and kidney disease when diabetes isn't well controlled.
According to the Centers for Disease Control and Prevention, 37.3 million people in the U.S. have diabetes - 11 percent of the population.
The number of people with prediabetes is also concerning. Currently, 96 million adults 18 years and older have been diagnosed with prediabetes, which amounts to 38 percent of the adult population.
What is diabetes?
Diabetes is the inability of the body to make or use insulin. Insulin is a hormone produced by the islet cells in the pancreas and helps to regulate your blood glucose (sugar) levels. When insulin levels are off, blood sugar builds up.
There are three main types of diabetes: type 1, type 2, and gestational diabetes (diabetes while pregnant). Type 1 diabetes is primarily diagnosed in children and is genetically linked. Type 2 occurs most often in middle-aged and older people and is largely related to lifestyle factors and genetic predisposition.
Keeping a schedule
When you have diabetes, we recommend establishing routine times to eat meals and snacks. For example, you could plan for 8:00 a.m., 12:00 p.m., and 6:00 p.m. for your three main meals, with an even distribution of healthy snacks between the three meals.
New research suggests that establishing a cut-off time for eating at the end of the day can help control blood sugar levels by giving your pancreas, which produces insulin, time to rest.
Time-restricted eating and diabetes
Here's how it works. Eat healthy meals and snacks on a regular schedule between 8 a.m. and 6 p.m. or any given eight- to 10-hour timeframe. Then, hold off eating for the next 12 to 16 hours. So, in this case, stop eating after dinner around 6 p.m. Have your next meal at 8 a.m. the following day.
Health benefits from time-restricted eating include:
Better insulin sensitivity - The body uses insulin released from the pancreas more efficiently, so less insulin is required to control glucose.
Insulin levels stay lower, avoiding spikes or surges.
Ultimately lower circulating insulin could result in reduced inflammation.
Inflammation in the body can be systemic, possibly impacting heart disease, cancer risk and Alzheimer's disease. When you do not eat, you avoid insulin release from the pancreas, protecting the pancreas and reducing its workload.
About the Author
Rita Smith is a Registered Dietitian at Sentara Martha Jefferson Hospital and has worked for over 45 years in the field of nutrition and disease prevention.
By: Rita P. Smith, MS, RD
---