Pastor leans on faith, family and dedicated medical team to fight COVID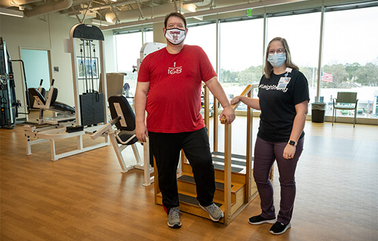 As a pastor and pastor's wife, Jay and Annette Baines have ministered to congregations for more than three decades, often during the darkest moments of those they serve.
When COVID-19 infected Jay's lungs and strained his heart, the Baines found themselves relying on the prayers and kindness of others, as well as Jay's skilled medical team at Sentara Norfolk General Hospital to give them strength and support.
"I knew there was a team of nurses and doctors fighting for my husband," says Annette, 53, Chesapeake, who had a difficult but milder case of COVID that didn't require hospitalization. "Even more so, I had a faith and a strength in God that He would be there for me and give his medical team the knowledge and wisdom to treat him. Our whole community was praying for the whole floor - everyone who was working to save Jay."
Heartbreaking good-bye
Annette began feeling what she thought were flu symptoms on Nov. 8, 2020. A telehealth provider also suspected the flu. A few days later Jay, 55, pastor of Great Bridge Free Will Baptist Church and Christian Academy, developed similar symptoms. So, they took a rapid COVID test at a clinic and learned they were positive.
Due to Jay's heart condition, which requires an implanted defibrillator, his oxygen level began to drop as he battled the virus at home. By Nov. 20, Jay's oxygen level was entering a dangerous zone, so Annette drove him to Sentara Norfolk General on the advice of David Adler, MD, a cardiologist with Sentara Cardiology Specialists. The agonizing reality hit the couple, who has been married for almost 34 years with three married sons and five grandchildren, that they may not see each other again in this world.
"I said, 'I love you,' and gave him a hug, then I had to leave," recalls Annette, who also works as director of admissions for their school ministry. " I was barely strong enough after recovering from my illness to get into what we were going to face. I just got in my car and cried.".
'Fighting for his life'
Annette and Jay's three sons, Caleb, Jonathan and Matthew and their wives, checked on her every morning, and all prayed together over the phone and on FaceTime for Jay's recovery.
Jay received well-wishes throughout his hospitalization from family, friends and church members, which lifted his spirits even when he was drained physically
"I read every text, listened to every voice mail and read every email," remembers Jay. "I couldn't respond most days, but it was really sustaining to receive that during a time when I had to be isolated."
A few days into Jay's hospitalization, doctors diagnosed him with double COVD pneumonia. Jay's cough grew worse, and he developed atrial fibrillation, which is an abnormal heart rhythm. When Jay's oxygen levels declined to a critical level, he moved to the heart ICU. Jay used a BiPAP machine, which delivers oxygen through a mask. He also had high-flow oxygen for several days for long periods to improve his condition.
"I kept watching my heart rate and was afraid my defibrillator would go off," Jay recalls of that precarious time.
Being away became increasingly difficult for Annette.
"Early on we would talk and text," Annette remembers. "I could tell there were days he didn't have it in him. He was fighting for his life."
Nurse plays crucial role in recovery
Annette received daily reports from nurses, and their son, Caleb, a nurse in North Carolina, also regularly checked in with Jay's care team. During a FaceTime call with Jay a few days before Thanksgiving, Annette became alarmed after seeing how exhausted he was, fearful he may not have the energy to fight the disease anymore.
Annette pleaded with Jay's nurse, Nancy, to do all she could to help him as their kids and community reached out in prayer. Jay's nurse got him into a proning position where patients lie on their stomachs to relieve stress from the heart and diaphragm and open the lungs.
"It was like a miracle," Annette explains. "Jay's nurse heard my heart and was such a significant part of his recovery. I can't begin to express my gratitude for what she did."
After his most critical days, Jay's condition improved.
"They have told me that I was very fortunate to come out of that alive," says Jay, who was hospitalized for 16 days. "After a four-day stretch of not knowing whether I was going to come through this, I began to get better."
Homecoming and Rehab
Doctors released Jay from Sentara Norfolk General with an oxygen machine on Dec. 5, 2020. His family greeted him at home and members of his church surprised them with festive "Welcome Home" yard art and Christmas decorations.
Jay still had a ways to go with his recovery after the lung damage he suffered. He used supplemental oxygen until Jan. 12.
To improve Jay's breathing, endurance and strength, he turned to Sentara Therapy Center Comprehensive Neuro Rehab in Norfolk and a team of physical therapists, including Laura Scurria, PT, DPT. The center began seeing COVID patients in the summer of 2020 and has since developed a COVID pulmonary rehab protocol.
One way to gauge improvement is through a six-minute walk test, which measures distance, heart rate, oxygen levels and blood pressure before and after the test. On Jan. 11, Jay walked 1,010 feet and his oxygen level dropped to 93, just shy of a normal level of 95 or above, Laura says.
With Jay's dedication to rehab at his appointments and home, his condition rapidly improved. By March 26, after being released from physical therapy for a month, Jay could walk 2,016 steps - 1,006 steps more than his initial assessment.
Making Progress
Another example of Jay's progress is his ability to walk stairs. On his first trial, he could walk one flight. A few weeks later, he walked five flights holding two 5-pound dumbbells.
"He did a phenomenal job," Laura says. "Jay is a very hard worker. He would let me push him out of his comfort zone."
Jay and Annette are forever grateful to their entire Sentara care team from the ER to rehab, including the rehab center's pleasant and personable office staff.
"They always met our needs. They were kind. They were attentive," Jay says. "I know they were tired because of the COVID protocols they had to follow, but they were so kind to my wife and even answered calls from my son. We couldn't have asked for better care."
---