142 pounds lighter after weight loss surgery, lifestyle changes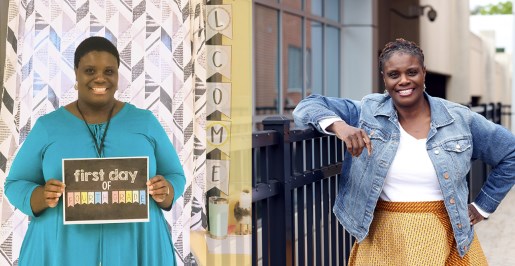 Emotional eating, frustration with diet plans, and back and knee pain guided elementary school teacher Tiffany Suggs to seek a new path toward significant weight loss and better health.
Tiffany, 43, tried several popular diets, faithfully counted calories, took an appetite suppression medication and exercised all with the hopes of shedding weight she'd been trying to lose for years.
"Nothing was working," explains Tiffany, who weighed about 365 pounds at her highest. "I got to the point where I was in so much pain from the weight on my knees and back that I couldn't stand for long, let alone exercise."
Exploring weight loss surgery
Tiffany, who lives in Fredericksburg, had considered weight loss surgery for a decade. However, after her mom underwent general surgery at Sentara Martha Jefferson Hospital, Tiffany, who was especially impressed with the customer service at the hospital, shifted her search there. That led her to Timothy Snow, DO, a bariatric surgeon at Sentara Martha Jefferson.
With a few weight loss surgery procedures to consider, Tiffany decided on the duodenal switch.
During the two-part procedure, a surgeon removes part of the stomach to create a smaller pouch. Then, the bottom part of the small intestine is brought up and connected to the new stomach pouch at the duodenum, the part of the small intestine closest to the stomach. The rest of the small intestine is removed.
After the surgery, people feel less hungry and eat less. In addition, because so much of the intestine is removed, the body absorbs fewer calories and nutrients. As a result, patients typically lose up to 70 percent of their excess body weight. The procedure is also highly effective in treating type 2 diabetes.
"Before my surgery, I was on medication for high blood pressure, high cholesterol, prediabetes, sleep apnea, and pain meds for degenerative disk disease," recalls Tiffany, who was able to get off all the medication eventually.
Physical, emotional changes
Tiffany's health insurance, like many policies, requires patients to work with a dietitian before surgery to learn how to eat healthier and reduce calories. Meeting with a counselor to ensure people are ready to take on challenges and restrictions before and after surgery is critical to their success.
A dietitian at Sentara Martha Jefferson Bariatric Care Center, helped Tiffany prepare for a new, healthier lifestyle beginning six months before her surgery. Because of the newly shaped stomach and intestines after surgery, patients must reduce portions, focus on high protein choices and limit foods high in fat and sugar.
"What I struggled with the most is that I was an emotional eater," Tiffany says. "When I was stressed out, food was my comfort. Therapy helped me develop better coping mechanisms. One of the things we worked on was pausing and checking in with myself to find out what was happening. Is it hunger or something else?"
142 pounds lost and counting
After her surgery, Tiffany spent the night in the hospital and recovered at her mom's house. She's been dedicated to her new way of eating and exercise routine. Her closet is evidence of her success.
"Shopping is fun for the first time since college," says Tiffany, who went from a size 28 dress to a 14/16. "I love dresses. My shirts were a 4X. Now I can wear an XL. My shoe size even decreased slightly."
Tiffany, who has lost 142 pounds so far, is the picture of success after her surgery, but she realizes she could not have done it alone.
"Remember, this is a process," she adds. "This beginning is hard, but it gets better. Find a support team who can help you at home, with family and friends."
By: Lisa Smith
---