Rasesh M. Shah, M.D., F.A.C.S.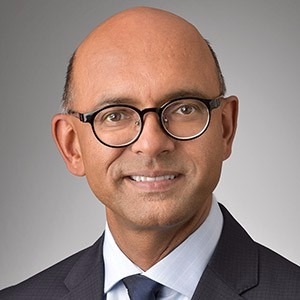 Vascular Specialist

Dr. Shah was born in India, spent his early childhood in England, and grew up in Upstate New York. He completed two undergraduate degrees at the University of Rochester (BA Anthropology and BS Microbiology) and then received his MD from the University of Vermont.
Dr. Shah is a highly trained vascular surgeon who has a special interest in the treatment of carotid artery disease using open and endovascular surgical techniques. He helped start the Carotid Stent program in Hampton Roads in 2001 and continues to remain involved with cutting edge treatments for carotid disease. Dr. Shah also specializes in venous disorders at the The Vein Center of Virginia, a division of Sentara Vascular Specialists which focuses on the surgical and medical treatment of complex and cosmetic venous problems.

Prior to relocating to the Hampton Roads area, Dr. Shah practiced in Buffalo, NY, where he held an appointment as an assistant professor of surgery with the State University of New York at Buffalo. Currently, Dr. Shah is an assistant professor of clinical surgery at Eastern Virginia Medical School in Norfolk, VA.

Dr. Shah moved to Chesapeake, VA with his wife, Dr. Gayatri Kapur, and three young children in 2001.
---