Robert A. Garwood, M.D.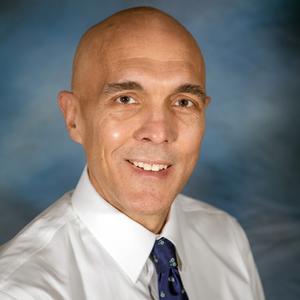 Medical Director of General and Bariatric Surgery, Sentara RMH Medical Center
Medical Director for Sentara RMH Medical Group Surgical Services
Chief of Surgery, Sentara RMH Medical Center
After earning his medical degree at the Penn State Milton Hershey School of Medicine, Dr. Garwood completed his surgical residency training at the University of Virginia. During his training, Dr. Garwood focused on advanced minimally invasive surgery and ultimately went on to complete a surgical fellowship in advanced laparoscopic and bariatric surgery. He then joined Harrisonburg Surgical Associates and the Sentara RMH medical group.
Dr. Garwood started the Sentara Weight Loss Surgery program in 2010, quickly building it into a Metabolic and Bariatric Surgery Accreditation and Quality Improvement Program (MBSAQIP)-Accredited Centers program while continuing to grow his diversified laparoscopic general surgery practice. He currently holds the title of Medical Directorships in both General and Bariatric surgery and was recently named the Medical Director of Surgical Services for the Sentara RMH medical group. He was also honored by his surgical peers who elected him as Chief of Surgery.

Dr Garwood has a diverse background, graduating from Princeton University with a bachelor's degree in economics followed by a 10-year career in the financial markets. Aside from his titles at Sentata RMH, Dr Garwood is board certified from the American Board of Surgery and is a fellow in both the American College of Surgery and the Society of American Gastrointestinal Endoscopic Surgeons . He has written several chapters in surgical textbooks and participated in numerous clinical studies.
---