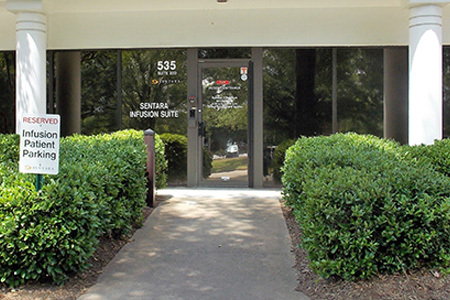 The goal of Sentara Infusion Services is to give patients options to improve their quality of life. The Sentara Ambulatory Infusion Suite offer convenient and comfortable alternatives to hospitalization and provide safety and comfort to patients who may benefit from this type of personalized convenience and support.

Our Infusion Suite offers high quality and expert clinical care in a convenient and comfortable setting:
Referral coordination and appointment scheduling
Insurance authorization expertise
Experienced team of healthcare providers specializing in intravenous medication infusion
First-dose protocols and midline placements
Clinical trial management
Physician follow-up including consultative reports
Comfortable rooms including wifi and TV/cable/DVD
Convenient location with handicap access and front door parking
Privacy for a comfortable, personalized experience with a separate waiting area for caregivers
The Ambulatory Infusion Suites are open Monday - Friday, 8:00 AM - 5:00 PM. Appointments are scheduled with prior insurance approval. For an appointment, please call the infusion suite in your area.
Our Locations:
Chesapeake
535 Independence Parkway, Suite 200
Chesapeake, VA 23320
Phone: 757-553-3290, option 2
Fax: 757-756-5107

Charlottesville
920 East High Street, Suite 101
Charlottesville, VA 22902
Phone: 855-553-3290